0345 095 9995 Out of hours call 07966 367746
© Dukes Vet Practice 2013, 2014, 2015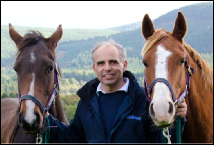 JIM DUKES BVM&S MRCVS
Jim Dukes founded the practice in 2002 and has seen it grow from a single handed practice to a busy three vet practice now. He is interested in a wide range of equine and farm work. He has a special interest in equine reproduction but undertakes all aspects of veterinary work within the practice. When not at work he is still likely to be found somewhere near a horse, either breeding or training young horses for polo or playing polo when he can. He also runs the farm where the practice is based.

HANNAH TINDAL BVM&S, MRCVS
Hannah qualified in June 2011 and after a brief spell in small animal and another equine practice, joined the team in October 2011. Hannah is the most academic of the three vets and the one we always ask about medicine cases! She is planning to continue studying and take a further certificate in Equine Practice. When not at the practice Hannah spends most of her time and money on her horse Biscuit; you may see them out and about at various shows and one day events.

LINDA CRUICKSHANK
Linda has been with the practice since May 2005. She is in charge of office administration and organising the vets. Linda is usually your first point of contact when you telephone or visit the practice. In her spare time Linda enjoys reading, writing, walking, gardening and sewing. She doesn't have a horse but has two cats Spartacus and Maisie.

JANE JEFFRIES
Jane is in charge of the in patients and liveries at the practice. She is a keen horsewoman and has a number of horses on which she competes regularly. Jane has also been DC of Deeeside Branch of the pony club for longer than she cares to remember. She is also a keen sport horse breeder and is anxiously awaiting the arrival of the latest foal in April this year.

SADIE PARKINSON
Sadie is no longer the newest recruit! Sadie joined the practice in November 2012 having previously worked for the Bank of Scotland. Sadie shares the administration load with Linda and is also our credit control officer. Sadie is also an artist and does animal portraits in her spare time when not riding one of her three horses!