0345 095 9995 Out of hours call 07966 367746
© Dukes Vet Practice 2013, 2014, 2015

We have an excellent range of facilities and equipment to offer a comprehensive service, wether it be for farm or herd disease investigation and management or for the investigation and treatment of individual animals.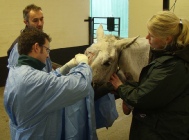 We have a dedicated case examination, investigation and treatment area at the practice. We also have all of the usual range of diagnostic equipment you would expect to find in an
equine practice plus some specialist items that most practices do not have.
We have six stables in two separate units. The first unit is mainly for day or inpatients and then we also have a dedicated breeding unit with foaling or stallion boxes, a phantom mare for semen collection and a specialist reproduction laboratory.
We also have an enclosed trot up and firm lunging area and a menage with poss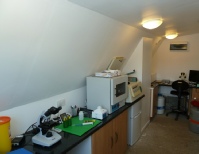 ibly one of the best views in Aberdeenshire!
There is more information in the specific equine and breeding sections.