Dukes Vet Practice is an Equine practice based in Royal Deeside, Aberdeenshire. Jim started Dukes Vets as a single handed practice in 2002. Since then the practice has grown steadily and we now have three full time vets an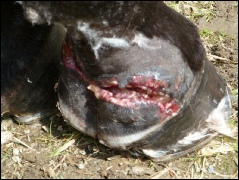 d three other permanent staff with additional help in busy periods.
Our new motto "Putting your horses first" neatly encompasses our business philosophy. You as a client are very important to us and we will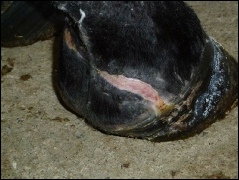 always endeavour to do the best we can for you and your horse.
We also have a number of external specialist vets regularly visiting the practice giving essential access to expert help when needed.
The practice is continuing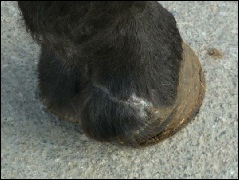 to grow and we have an ongoing program expanding and developing our expertise, facilities and the range of services we offer.
As can be seen from the series of photos we cannot always choose what cases are going to be presented to us; however the way that we deal with them can have a massive impact on the eventual outcome.The wound was initially too contaminated to suture and the first picture is on day 2 during the cleaning phase. The second picture is 4 weeks later healing well and the final picture is 3 months after the original injury with an excellent cosmetic and functional result.
Our philosophy is simple, to provide the best and most appropriate service at all times to all of our clients and their animals. We aim to do this using a mixture of cutting edge technology, continual investment in training and equipment coupled with an understanding of the basic principles of empathy, a proper examination of our patients and an understanding of our clients' needs. In this way we can use the most appropriate investigative techniques or treatment for each case to achieve the best result for you and your animals without wasting time or money on unnecessary tests and therapies. At the same time if there is a new and radical technique which can help we will do our best to make the technique and expertise available using our links with various visiting specialists and referral centres.
Out vets are a closely knit team and we often work on or discuss cases between us. We all have different experience and expertise and combine this where possible and relevant for specific cases. We run an in house clinical club about once a month where we present cases or discuss specific conditions so we can share and exchange ideas.